Detroit Tigers: A Brief History of Tigers from Canada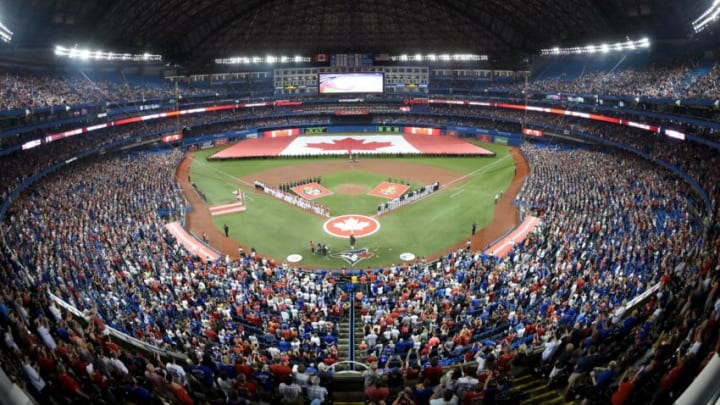 A view of opening ceremonies to celebrate Canada Day before a game between the Detroit Tigers and Toronto Blue Jays at Rogers Centre. Dan Hamilton-USA TODAY Sports /
Detroit Tigers from Canada – Frank O'Rourke and Matt Stairs
Matt Stairs played 14 games for the Tigers in 2006, finishing with two home runs and eight RBIs. /
Just 16 position players from Canada have managed to play 1,000 career games in the big leagues, and two of them saw some time on the Detroit Tigers. Frank O'Rourke was a glove-first infielder who played from 1912 to 1931, suiting up for six teams. But the best season of his career was 1925, when he hit .293 with career highs in home runs (5) and doubles (40) for the Detroit Tigers. He played second base for the team that year, but in 1926 he was displaced at the position by a young man named Charlie Gehringer.
Matt Stairs was a hired assassin. A stout lefty built like a jug of maple syrup, Stairs walked, struck out, and hit bombs. He went undrafted and didn't see regular playing time in the big-leagues until he was 29, but nevertheless went on to hit 265 home runs while playing for 12 teams over 19 seasons. He is the all-time leader in pinch-hit home runs.
A mid-September addition for the Detroit Tigers in 2006, his 14-game stint with the club was his shortest with any team. The Tigers dropped their last five games of the year to lose the division, but in the final game of the season, and Stairs' final game with the team, he hit a huge, game-tying home run in the 8th inning to keep hope alive.
Stairs' run with the Tigers wasn't the shortest by a native of Canada. Fans may remember catcher Max St. Pierre getting into six games in 2010, or Dustin Molleken's four-game run in the middle of 2016. But we'll finish our list with the longest-tenured Canadian for Tigers. He also happens to be the best…