Detroit Tigers fans need to show their displeasure beyond social media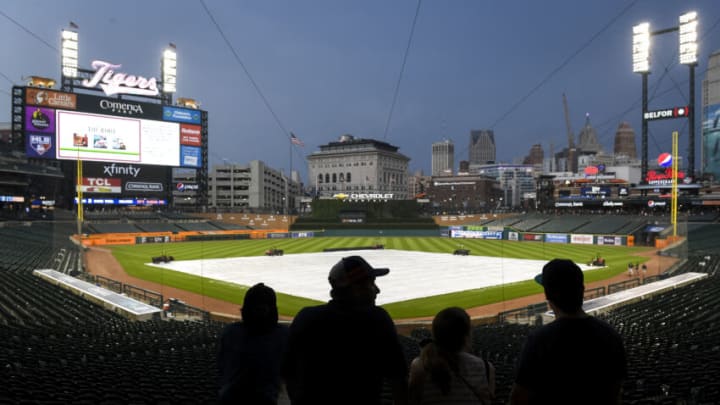 DETROIT, MICHIGAN - JULY 20: Fans wait for the delayed game between the Detroit Tigers and Texas Rangers to begin at Comerica Park on July 20, 2021 in Detroit, Michigan. (Photo by Nic Antaya/Getty Images) /
Opinion: It's time for Detroit Tigers and all baseball fans to put down their phones and put their money where their mouth is.
During this early part of February, Detroit Tigers fans would be normally be counting down the days until pitchers and catchers report to Lakeland. But as the information comes out from the various news sources that the lockout is still at a stalemate, the patience of the fans will continue to get shorter, even as MLB has asked the government to step in and help.
Unlike during the last work stoppage in 1994, fans now have a forum to voice their displeasure via social media. It gives everyone a voice that they did not have previously. From posts about not eating at a certain location, or using Twitter to complain to the airlines about a flight they screwed up, it can be used for good.
On the other hand, what we see on Twitter or Facebook or whatever medium, are fans doing the following:
Yelling at the team's account about their starting lineup/performance.
Tearing down a player to the point of harassment over losing a game, as with the case of Ohio State Basketball player E.J. Liddell.
Doing a video of a jersey burning.
We are all guilty of doing something that would be irregular for the teams we care about. Sports have that effect on us as a society. As information is rapidly available at our fingertips to consumers, people can make choices to watch and consume whatever they want online.
In the past it seemed the constant complaint from fans was that players are making millions playing a kids' game, and they should be grateful, and that the fans would be happy to play the game. Well, as Kevin Goldstein of FanGraphs said on our Tigers Podcast a few weeks back, no one is paying to watching loud fans play baseball.
I asked Scott Bentley of the "Locked on Tigers" podcast his thoughts about the lockout and where he thinks it is heading, and this was two days before the news that broke out yesterday involving the use of a mediator.
""I believe February is the month. It won't be early February but by the end of the month I think we should have a deal. Neither side thinks they can afford to miss games and while Spring will be effected, it wouldn't change much, if anything at all for the regular season. The sides seem to be in agreement on ideas and policies at this point, but the finances within those policies are still very far apart. I don't believe the last week of February is too far fetched.""
Baseball needs the fans
If you are upset about the MLB lockout and fed up with the owners keeping the players away so their demands are met, then stop going. I know it is easier said than done, but let's look at the demographics of Major League Baseball for a moment. Per a report in USA Today back in April 2021, MLB's television audience is one of the oldest among pro sports. Only 7% of baseball fans are under the age of 18, which I found shocking at first as there always seems to be a good turnout of children at ballgames.
On the plus side, the 2020 MLB playoffs and World Series ratings were up from previous seasons, but with Bally Sports not having agreements in place with streaming services like YouTube TV, MLB has seen the household average fall 12% compared to 2020 and 2019. Watching a Detroit Tigers game with AT&T was a huge challenge. Fans should not have to be creative and use tools like a VPN blocker to watch their local games. In those cases, you can't even cast the game onto a bigger TV, so you are forced to watch it on your mobile device or a computer.
There are talks about Apple bidding for the MLB weekday package, which would mean a monthly fee. If that is the case, with prices going up on goods and services, it may be harder to reach audiences. Not everyone just automatically subscribes to a streaming service.
However, Detroit was one of just six markets that beat the trend of viewership dropping, with an increase of 40% compared to 2020. What helped was how exciting the Detroit Tigers were to watch, defying projections and expectations.
So fans do care across the state of Michigan. However, with the lockout news looking bleaker and bleaker every day, it may set a tone of disgust. This is the same town that marched in a parade, led by Detroit sports radio personality Sean Baligian while he was at 1130 The Fan, over how bad the Lions were in 2005.
This is the town where fans celebrate role players like Don Kelly and Jim Walewander, and still can remember John Wockenfuss's batting stance. Bless You Boys, a phrase coined by former Channel 4 anchorman Al Ackerman, became a title of a book by Sparky Anderson about the 1984 season, and is a Detroit Tigers blog.
It's hard as someone who does baseball content regularly to not be frustrated with the whole situation. I understand where the players are coming from in their efforts to increase their pay and freedom in how their first contracts are laid out. At the same time, it feels at times that if we criticize ownership in any capacity, even as fair as you can be, whatever access you have is taken away or a narrative is created, that you are just a "angry fan."
So, powers that be at Major League Baseball, do us a solid. Sit down with the players and get a deal done. And if you don't, baseball fans will continue to walk away, and they will not have to do a Twitter/Facebook/YouTube/TikTok post to prove they did it. It appears MLB owners ignore the diatribes of a fan on social media, but they will not ignore low attendance figures or low TV viewership.