Detroit Tigers History
The D On Austin Jackson's Tigers Cap Also Stood For Defense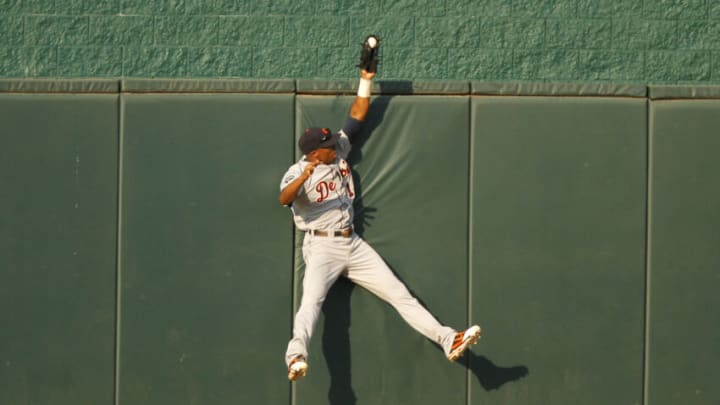 Austin Jackson reaches over the wall to rob the Royals' Alex Gordon of a home run on August 6, 2011 in Kansas City. (Photo by Ed Zurga/Getty Images) /
Austin Jackson in action against the New York Yankees. (Photo by Jim McIsaac/Getty Images) /
April 3, 2011: Biting the Big Apple
The Tigers' season-opening series at Yankee Stadium was turning out to be a dud. Detroit dropped the first two games to New York and faced the possibility of a sweep in the Sunday afternoon finale. The Tigers took a 9-6 lead into the bottom of the seventh, but the Yankees scored one run in the inning and threatened to add more.
With a runner on second and two outs, a familiar face represented the potential tying run. Curtis Granderson was up. Grandy still looked odd in Yankee pinstripes, even though a full season had passed since the three-team deal that sent him to New York and brought prospect Austin Jackson to Detroit. Granderson's Opening Day home run off reliever Phil Coke, a former Yankee who also became a Tiger in the aforementioned trade, was a game winner. Coke was back on the mound to face Granderson once again in this key situation.
Granderson lofted a fly ball to center that may have been aided by the wind. Jackson's pursuit took him to the warning track. Just as it appeared that he might lose it in the sun, Jackson leaped up and reached to his right in a last-ditch effort. He made the catch, and the inning was over. Jackson remarked,
""It was tough pretty much the whole series trying to get good reads on the ball with the wind doing a lot of crazy things.""
The Tigers still held their 9-7 lead in the bottom of the seventh. With two outs and a man on first, Mark Teixeira represented the potential tying run. He had already hit three home runs off Detroit pitchers in the series, including one off Max Scherzer just four innings earlier. Teixeira ripped Joaquin Benoit's two-strike pitch into center field. Jackson made a basket catch just before the sinking liner would've hit the ground. He tumbled over as he went low to make the inning-ending play but kept the ball in his glove. It wasn't pretty, but it was effective enough to keep Alex Rodriguez from coming to the plate with two runners on.
For the second time in two innings, Jackson overcame obstacles to make a play when the Tigers needed one. Jackson explained that the play on Teixeira was a tougher catch to make because "the ball blended in with the seats and the backdrop of the stadium".  Detroit added a run in the top of the ninth, and Jackson easily handled Jorge Posada's routine fly ball to seal the 10-7 victory.