Detroit Tigers Spring Training Video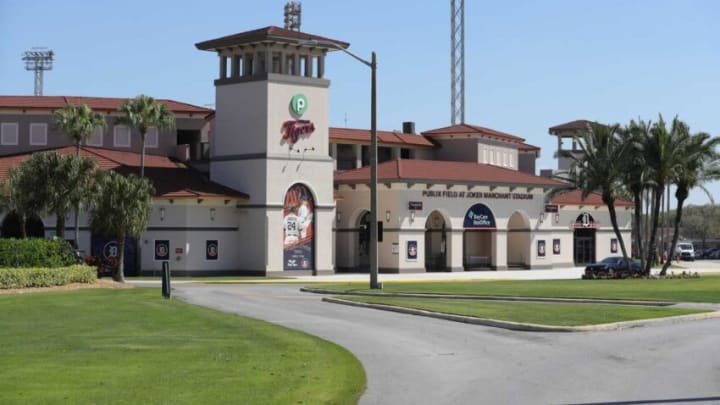 Exterior of Publix Field at Joker Marchant Stadium in Lakeland, Fla., Friday, Feb. 26, 2021.Spring Training overview, Joker Merchant Stadium overview, Publix Field overview /
The odds of a delayed 2022 MLB season are growing stronger, but images of Detroit Tigers minor leaguers in action have begun leaking out of spring training camp.
MLive's Evan Woodbery tweeted out the roster for Detroit's minor-league mini-camp on Wednesday morning (it's fairly close to our depth chart projections), and various beat writers began reporting from Lakeland.
Later in the day Chris McCosky of the Detroit News shared photos of a new blue wall for weighted ball practice, while Evan Petzold of the Detroit Free Press offered glimpses of a few pitching prospects in attendance, as well as a look at former top prospect Franklin Perez.
Thursday's camp action brought video, with Petzold posting bullpen footage of Beau Brieske, minor-league Rule 5 addition Nick Kuzia, and reliever Will Vest:
Petzold also gave fans some batting practice footage of Detroit's top catching prospect Dillon Dingler…
…and video of that new blue wall in use.
Top Detroit Tigers Draft Picks on Display
Undoubtedly the biggest highlights from Thursdays video drops were the glimpses of Jackson Jobe and Ty Madden, the club's top two picks from the 2022 draft, pitching in Detroit Tigers uniforms for the first time.
The Detroit Tigers Player Development Twitter account offered a few nice photos of the duo:
While McCosky shared footage of, Jobe, Madden, and Garrett Hill pitching next to one another.
But it was Petzold who won the day, at least from a multimedia perspective, with videos of Jobe and Madden warming up together…
…as well as multiple angles of Jackson Jobe's bullpen session. This first video shows Jobe from behind the pitcher's mound, with plenty of Detroit Tigers brass watching.
But it's this shorter video, taken from behind catcher Eliezer Alfonzo, that seems to have Tigers fans buzzing the most, as it offers a glimpse of Jobe's dastardly slider.
The minor league camp will continue with more bullpens over the weekend, and then pitchers will get to face live hitters beginning next week.