The Detroit Tigers and the 2022 MLB Draft: College Preview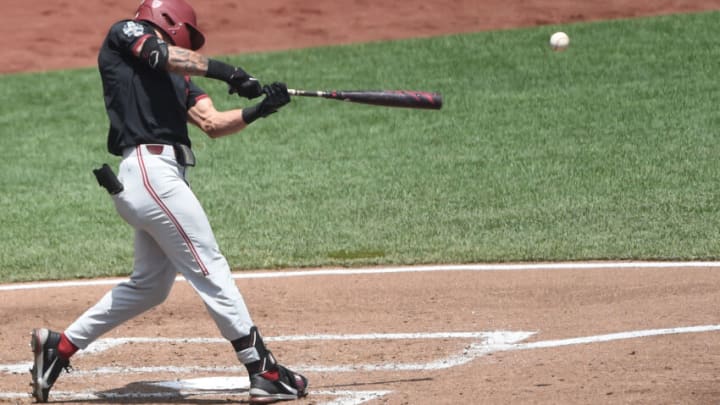 Outfielder Brock Jones doubles home two runs. Steven Branscombe-USA TODAY Sports /
Detroit Tigers 2022 MLB Draft Options – College Infielders
Mississippi State catcher Logan Tanner gestures after hitting a home run. Bruce Thorson-USA TODAY Sports /
Catchers
The Detroit Tigers might not necessarily be in the market for a catcher early in the 2022 MLB Draft, but this quartet of talented backstops still deserves mention. All four offer an appealing mix of defensive ability and offensive potential, albeit to varying degrees. Hayden Dunhurst shows an impressive mix of arm strength, defense, patience, and power, while Kevin Parada comes with some defensive question marks, but a potential plus hit tool.
Daniel Susac probably has the most well-rounded profile of this group, with good athleticism behind the plate, a strong arm, and a nice combination of bat-to-ball skills and power. Logan Tanner is a bit like the turbo version of Dunhurst, with a huge arm, above-average defense tools, and plenty of power and patience to cover up for a potentially below-average hit tool.
Actual Infielders
MLB Pipeline considers Jacob Berry the top college bat in the class, and right now he looks like a consensus top-ten pick. He hit .352 with 17 home runs as a freshman for Arizona last year, and then hit .387 with four more bombs in 11 games with Team USA. Eric Brown is a tightly wound athlete with a funky setup at the plate, but he's a strong defender with good contact skills and surprising pop for his size. He hit .292 with 9 homers for Coastal Carolina, then batted .282 with five more home runs in the Cape.
Peyton Graham has a bit of Gage Workman in him. He's an impressive athlete with power potential and plenty of room to grow, and he can play all over the field, though he probably fits best at third base. Jace Jung had a spectacular sophomore season, batting .337 with 21 home runs and more walks than strikeouts. He couldn't match that production over the summer, but he's regarded as one of the best offensive players in the class and should be a top ten pick even though he won't provide much with the glove.
Brooks Lee has long been considered the best pure hitter among the college bats in this class, and he should also offer at least average power production from both sides of the plate, but he's likely not a long-term shortstop. Robert Moore has plus instincts and a flair for coming up with big hits, but he likely tops out at average power and will probably have to play second base in pro ball.
We finish with a trio of interesting middle infielders who need to answer questions this year. Zach Neto had a terrific 2021 season, batting .405 with 12 home runs for Campbell (and posting a 3.43 ERA over 21 innings) and then he hit .304 with 3 homers in the Cape Cod League. But there's a lot of movement in his swing, and he might not stick at shortstop in pro ball.
Jordan Sprinkle should be able to stay at shortstop and he has been productive at the plate, hitting .353 at UCSB and then batting .300 with the Collegiate National Team, but there are questions about his power potential with wood bats. And then there's Carter Young, a no-doubt shortstop with average raw power from both sides of the plate, but worrisome contact numbers that conjure memories of Logan Davidson and Casey Martin.
It's entirely possible one of the top infield bats slips to the Detroit Tigers at 12, but perhaps they'll be more interested in one of the very intriguing outfielders in the class.