Detroit Tigers: The MLB Lockout continues, first seven games canceled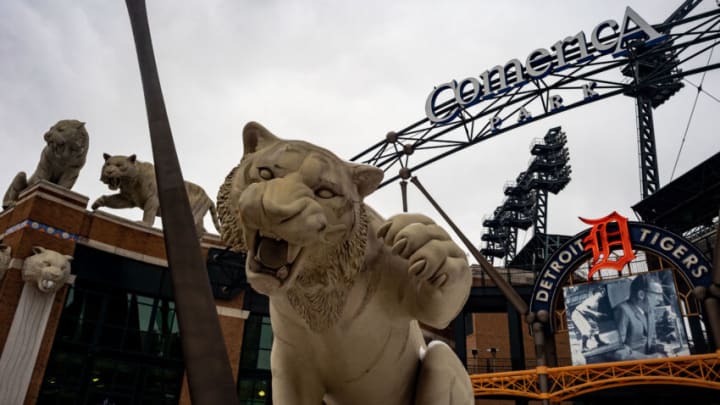 DETROIT, MICHIGAN, UNITED STATES - 2022/02/07: Comerica Park in downtown Detroit. (Photo by Stephen Zenner/SOPA Images/LightRocket via Getty Images) /
MLB Commissioner Rob Manfred announced the cancelation of the first two series of the season as the Detroit Tigers were set to hit the west coast.
The wait to see the Detroit Tigers continues on as MLB Commissioner Rob Manfred announced this afternoon that the first two series have been canceled. The press conference began at 5pm and right off the bat, the presser had a strange vibe to it.
The debuts of the newest Detroit Tigers, Eduardo Rodriguez and Javier Baez, in Seattle will have to wait. The first sights of Spencer Torkelson and Riley Greene at Comerica Park are on hold. But there are more lost than just seven games of a regular season, it's the respect of the fans.
Baseball is no longer a sanctuary
Merriam-Webster's dictionary defines the word "fan" as: 
""1.an enthusiastic devotee (as of a sport or a performing art) usually as a spectator2. an ardent admirer or enthusiast (as of a celebrity or a pursuit")"
Webster's mentions that the word "fan" is a short form of fanatic, which traces from the Latin word "fanum" which means "sanctuary, temple". MLB fans were waiting for the good news today that the start of the regular season would start on time.
Before you hit me with the time-honored "Millionaires vs Billionaires" sports talk radio take, or the "they play a kids' game for millions" or my favorite, they are just spoiled athletes. Let me stop you right there.
The average MLB salary was $4.17 million on Opening Day 2021. It sounds like a lot and it is compared to the average salary of any profession. However, looking at as a collective, of the 902 Opening Day rosters, 417 had salaries under $1 million, which includes 315 players under $600,000 per the AP story from last season.
The medium salary is down 30% from what it was in 2015 and among the major sports in the United States, they have the lowest minimum salary of $570,500. They have lost ground compared to 10 years ago as J.J Cooper of Baseball America highlights.
So why do I say all of this? Because of this factoid.
The players just want the revenue that is increasing growing and no matter what type of work you do, if you know your company is making more money and you are not getting a raise, wouldn't you be pissed? Yes, I know, again, we are not baseball players but no one is paying for your local high school hero, who swears he could've made varsity under the right coach to watch him play.
Thanks to Twitter accounts like Pitching Ninja, we can see how hard it is to make a slider break or watching a game from the perspective of a catcher, how quick you have to think to swing. Baseball is a hard sport. Players now are training year around to keep themselves in the best shape possible.
Fans have every right to be mad but don't blame the players.
Rob Manfred has come across as very callous and out of tune with the game.
It's not just six games, there was time to get a deal done from December but waited until the last 9-10 days to make a deal. There are so many other reasons the fans are upset. For example, the Chicago Cubs have pretty much broken up the core of their World Series team but announced last year that there will be a Wrigley Field addition for on-site gambling or their teams may not be spending enough.
Rob Manfred's message may of permanently ruined the sanctuary of baseball fans today. The "temple", figuratively speaking,  could be when you go to the ballpark and have a beer with friends or going to the game with your family, having your kids grow into the love of the sport. Fans may walk away and create a new sanctuary.