Detroit Tigers Hard Knocks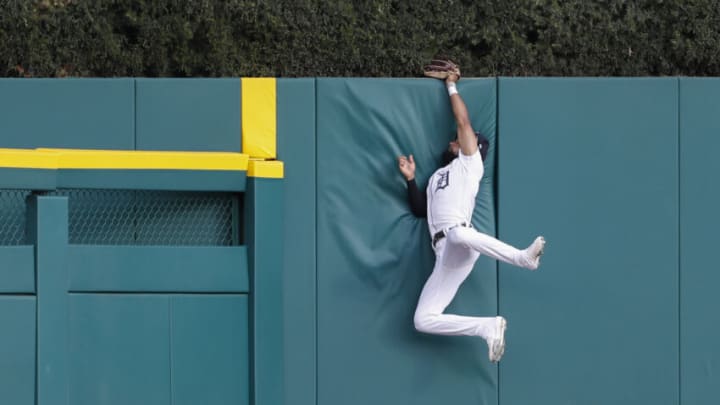 Tigers center fielder Derek Hill makes a leaping catch at the wall. Raj Mehta-USA TODAY Sports /
The hardest hits from the Detroit Tigers starting lineup.
The Detroit Tigers are just 11 days from beginning their season, but Detroit sports fans have once again been drawn in by the NFL's unstoppable attention machine. The Detroit Lions will be the focus of this season of Hard Knocks, HBO's annual behind-the-scenes look at NFL squads.
We understand the morbid curiosity of wanting to peek behind the curtain of the worst franchise in professional sports, but, with all due respect to our friends at Side Lion Report, perhaps the maddeningly perpetual optimism of Lions fans should be directed elsewhere before Lucy yanks away that football for the 65th consecutive year.
We have an alternative for you. Why not watch Detroit Tigers register some actual hard knocks?
It's fun to watch baseball players hit the ball hard, so below we have video of the hardest hits from each member of the presumed starting lineup for the 2022 Detroit Tigers, a team that is actually worth watching. Enjoy!
Detroit Tigers Hard Knocks – Akil Baddoo
Akil Baddoo's hardest hit ball with the Tigers was a scorching line out against the Rays last September, but this was his hardest actual hit. It came against future Hall-of-Famer Zack Greinke, leaving Baddoo's bat at 109.8 MPH, and traveled an estimated 450 feet before landing.
Detroit Tigers Hard Knocks – Robbie Grossman
The 2021 Detroit Tigers got off to a brutal start, and their record was just 9-24 after a home loss to the Minnesota Twins on May 7th. Much was made about the team's performance from May 8th on (they went 68-61 over the rest of the year), and that turnaround officially began with this hit. Robbie Grossman kicked off the bottom of the 1st inning by taking a 2-0 pitch from Jose Berrios and crushing it 110.9 MPH into the right-field seats. It remains the hardest contact of Grossman's career.
Detroit Tigers Hard Knocks – Javier Báez
Javier Báez only has fewer than 20 at-bats in a Tigers uniform, so his chances for hard knocks have been slim. And yet he's already made some awfully strong contact. His hardest hit ever came last year when he was still with the Cubs, but the double you see above ranks as the 14th hardest hit ball in his career. Báez's frozen rope off Hyun Jin Ryu was 112.3 MPH off the bat and it scooted to the wall in about 4.5 seconds.