Detroit Tigers Hard Knocks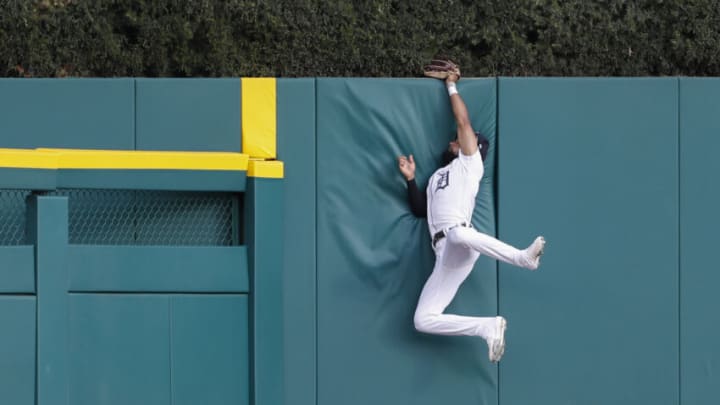 Tigers center fielder Derek Hill makes a leaping catch at the wall. Raj Mehta-USA TODAY Sports /
Riley Greene congratulates Spencer Torkelson. (Photo by Dustin Bradford/Getty Images) /
Detroit Tigers Hard Knocks – Riley Greene
So Riley Greene is pretty good. He's been our number one prospect in the Detroit Tigers system for the past two years, and it's because of things like this. Greene has just 23 balls in play tracked by Statcast, which makes sense, because he hasn't played any official MLB games yet. But the rocket above is the second hardest-hit ball in Detroit Tigers history, at 115.8 MPH. At the time it was the hardest, and there's a good chance he tops it this year.
Detroit Tigers Hard Knocks – Spencer Torkelson
Spencer Torkelson also has just 23 balls in play tracked by Statcast, but he has yet to truly scorch a ball, topping out with this 105.1 MPH single.  There aren't many videos of Torkelson hits at the MLB film room, so we went with the hard single you see above, which left his bat at 98.5 MPH. We suspect it won't take him too long to top 110 MPH at the big-league level, but if you're aching for some Tork Bombs, feel free to watch all 30 of his blasts from last year.
Detroit Tigers Hard Knocks – Tucker Barnhart/Eric Haase
Tucker Barnhart is going to be Detroit's starting catcher, and he's a great defender who is capable of making some hard contact. In fact, the hardest hit ball of his career came this spring, but it was a groundout to shortstop. This piece is about hard knocks, and we know what you want to see. So enjoy the Eric Haase crush job above, a 113.2 MPH launch against his former team that went an estimated 442 feet and probably put a decent dent into the outfield bleachers.