Detroit Tigers: The muted nobility of another lost September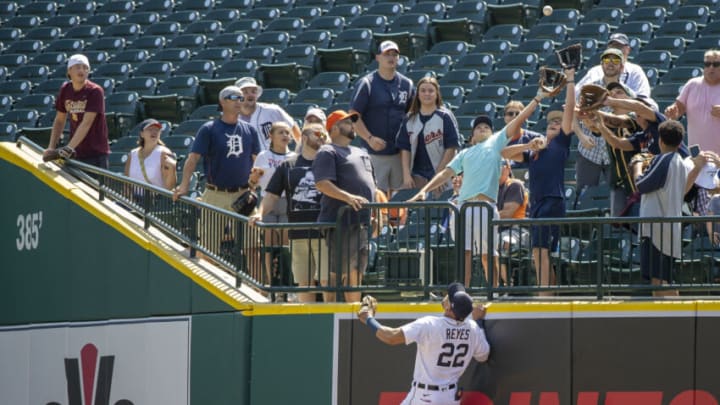 DETROIT, MI - SEPTEMBER 02: Victor Reyes #22 of the Detroit Tigers looks up at a home run by Mark Canha #20 of the Oakland Athletics in the first inning during a MLB game at Comerica Park on September 2, 2021 in Detroit, Michigan. (Photo by Dave Reginek/Getty Images) /
Another lost September of baseball is fast approaching in Detroit much as it has the last few years. Don't get me wrong…the towel was tossed in long ago. This Detroit Tigers season was lost by the end of April for all intents and purposes. But it's September where the realization truly strikes home. Summer wanes and the autumn starts and the local Boys of Summer have come up well short. They did not shed the cloak of losing in 2022.
It's that point where the baseball fan must dig deep if they're going to ride out the season. It's the noble fan who sees the season through. It's not easy. The leaves turning brings attention to the football Goliath as an alternative time suck. If your baseball club has packed it in it's easy to spend the weekend with the pigskin folks.
Why do we watch the string being played out? Certainly for many of us it's our deep rooted and stubborn belief in the sport. That love of beautiful curveballs carving up hitters, shortstops laying out to snare a liner, or the crack of a bat sending one to the gap.
For others it's just a remembrance of watching games with your father or mother. It's so easy for me to see an opposing big slugger come to plate with runners on and hear my dad's voice saying…"a good double-play man for us here".  Maybe you can't watch a game with them ever again but you can remember vividly why you did. That can be enough to pull you through September.
For many of our elderly or disabled folks baseball is that daily friend helping combat loneliness and there is an even deeper sadness as the calendar ticks away. The show is closing soon and won't come back until April…and next April is promised to no one. If you have someone like this in your life, for goodness sake, go watch a game with them this month. They'll appreciate it. So will you.
Then there is the club. You watch in September hoping, perhaps without realistic hope, of seeing that glimmer for next spring. The young guy who is starting to figure it out. The pitcher showing improved command or a hitter looking slightly more selective. The September call-up you can watch take 80 at-bats and convince yourself they'll be a factor next year.
The Detroit Tigers give you Riley Greene to dissect on a daily basis to determine if stardom's is lurking. Spencer Torkelson will return with hopes of alleviating the worries about viability. Ryan Kreidler will join Kerry Carpenter as young position players looking to stake a claim for next year. These guys are why we watch.
We watch to see Miguel Cabrera take his final laps even if they'll extend into next season. The living legend was the best show in town for a long time. Despite the steady decline over the years he still commands the respect a future Hall of Famer deserves. You watch and hope for a dose of the old magic from time to time.
We look for Jeimer Candelario to show a pulse or Jonathan Schoop to show some sign of life. Or maybe we just have that one favorite player we just want to see succeed just for the heck of it (Victor Reyes, a lowly Iowa scribe turns his eyes to you).
For the Tigers specifically they give you some hope of a new direction come winter. With GM Al Avila now "former GM" Al Avila it's going to lead to much speculation among the fans and the Tigers media. Will it be a young Ivy League whiz-kid from a successful organization as the new boss? A steady old hand with a proven track record? Or an internal hire of someone already in house? Each is plausible and each brings its own way of doing business. This upcoming search and change of direction can definitely provide the gravitational pull to bring a losing club's fan through September.
The Detroit Tigers march into September as a ragtag bunch sporting a 50-80 record. They provide no expectation of contention. They provide no expectation of memorable play. They provide no expectation of competitive play. Their biggest selling point is "we canned the GM."
But many will watch. They'll take that final month of losing baseball and not treat it as misery. It's the chance to continue your lifelong commitment to the grand old game. Those moments that make you smile like a diving catch or a clutch double and the plays that infuriate you like only a base-running gaffe or an umpire's supposedly bad call can do.
We watch because we love the game and, perhaps mostly, we love what those who have worn the Olde English D have meant to us over the years. The season is still unwinding and the final story is being written even if it's a sad one. It's a quiet honor to see it through. The unrewarded nobility of the losing baseball fan.