Report: Detroit Tigers sending multiple top prospects to Arizona Fall League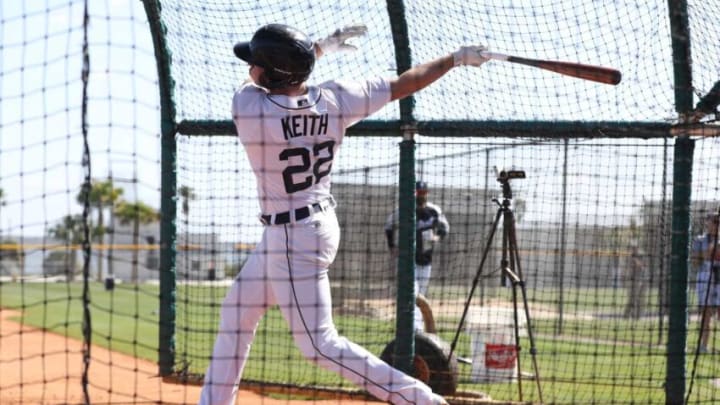 Detroit Tigers infield prospect Colt Keith takes batting practice. /
The Detroit Tigers are sending some of their better prospects to get some more work in.
According to a report from Lynn Henning of The Detroit News, the Detroit Tigers will be sending several of their better prospects to the Arizona Fall League next month.
Those prospects include: 3B Colt Keith (No. 6 prospect according to MLB Pipeline), OF Parker Meadows (No. 17), INF Gage Workman, as well as pitchers Matt Walker, Jack Anderson, and Tyler Mattison (No. 26).
It's worth noting that Henning reports that this list is not final. Other names could still be headed down to Arizona, with Henning mentioning catchers Dillon Dingler and Josh Crouch, and even pitcher Joey Wentz as possible AFL candidates.
Some of these names are not very surprising to see heading down to the land of the desert next month, especially Keith, who suffered a season-ending shoulder injury back in June. Before that, he was having a breakout year, slashing .301/.370/.544 with a .914 OPS in 48 games at High-A West Michigan. It's safe to say that he probably would have reached Double-A if not for the injury, had he kept those numbers up.
Meadows is having by far his best year as a pro in 2022, slashing ,271/.344/.483 with 20 homers between High-A and Double-A. 16 of those home runs have come in Double-A, where he also sports a 122 wRC+. It's no wonder why the Detroit Tigers chose him as one of their AFL participants.
Workman isn't much of a surprise either, especially given his recent hot streak. The 22-year-old is only slashing .228/.280/.426 on the year, but he has a .902 OPS with five home runs over his last 25 games. He hit .301 with a .906 OPS in the month of August.
Workman has always been one of the more frustrating prospects in the Tigers system. When he makes contact, he crushes the ball. He's got a .199 ISO this year, with over half of his hits this year going for extra bases.
The problem, of course, comes in the form of his nearly 40% strikeout rate. That's simply unacceptable at any level. He needs to get it down to around 30%, which is still pretty bad, before we can start to take him seriously as a prospect. This AFL stint may be his last chance to prove himself.
Walker (2019) and Anderson (2021) are both late-round picks. Anderson has had a solid year out of the bullpen between Low-A and High-A, with an ERA around 3.33 and a K/9 around 10. Walker is a bit aptly named, as he struggles with free passes. They could both be in for a similar situation as Garrett Hill last season, with an opportunity to put themselves on the map with a good performance.
Mattison, a fourth-rounder in 2021, doesn't have great numbers on the surface pitching out of the bullpen in Lakeland, with a 5.23 ERA in 32 innings pitched, but he's also struck 46 batters in that same timeframe. The stuff is there, he just needs to work on his command, which is presumably why the Tigers are having him pitch in the AFL.
The Arizona Fall League will take place from Oct. 3-Nov. 12.