Detroit Tigers: Prospect Colt Keith is making up for lost time in AFL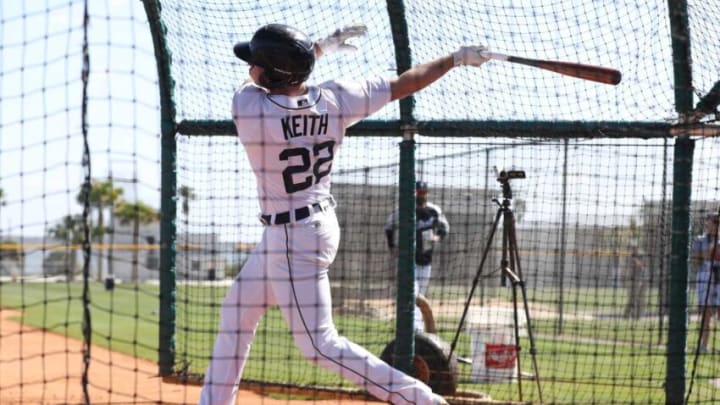 Detroit Tigers infield prospect Colt Keith takes batting practice. /
Detroit Tigers Colt Keith is headed to the Arizona Fall League to make up for lost time.
The Detroit Tigers have released their Arizona Fall League (AFL) rosters, and there are plenty of noteworthy names to watch, but one of the Tigers' prospects is hoping for a chance for redemption this fall. The prospect is infielder Colt Keith who got hurt earlier this summer.
It was an incredibly unfortunate injury for Keith, who sustained a shoulder injury while diving back into first base on a pick-off attempt. He landed on the Injured List (IL) and has not played a game since June 9th, 2022.
The shoulder injury did not require surgery, which was a plus, but he's yet to get back on the field. He's still recovering and working his way back, but he will head to Arizona and join the Tigers' crop of talent heading to the AFL.
It will be an excellent opportunity to cash in and get some at-bats in after missing so much of the summer with his injury. It's redemption for him to make up for lost time and get some work in before the offseason.
While no one wanted it to unfold this way, it's still an excellent opportunity for Keith to be healthy, get back out there, get into some game situations, and get his at-bats in during actual games. If not, his rehab and recovery this fall might have been a bunch of simulated batting practice, simulated live at-bats, and so on.
The live, real-feel at-bats in a game situation will be even more beneficial for Keith as he continues along his recovery path. Missing so much time this summer and making up for it with a strong AFL performance will make things even better.
Detroit Tigers Colt Keith was on fire before the injury.
Colt Keith was getting the job done for the Tigers High-A affiliate before his injury. Keith played in 48 games, where he accumulated 216 plate appearances. He slashed .301/.370/.544 with 14 doubles, three triples, and nine home runs and had already collected 31 RBI for the West Michigan Whitecaps.
He was off to a great start, seeing the ball well and playing himself up to a level where he could earn a promotion. Instead, he ended up on the IL and halted any shot of moving up. But getting the chance to log some at-bats this fall could make a huge difference for how he's valued going into 2023.
With a new regime set to take over this offseason, Keith can carry a strong AFL performance into the offseason, put in work, and come out looking to advance in the organization in 2023. Getting to take part in the AFL has the chance to be highly beneficial for Keith.
He has a chance to do a few things; make up for a lost time, produce more solid numbers, and increase his stock with the organization. When the Tigers selected Keith, the expectation was that he could pan out with a strong development path.
He was a fifth-round pick from the COVID-shortened 2020 draft out of Biloxi High School in Mississippi who was drafted as a two-way expected to be a bat as he progressed. He has lived up to the expectations early on, getting in with the organization, finding his footing, and excelling.
There are plenty of reasons to be happy with Keith, even with the injury. He's got a great opportunity ahead of him this Fall, and so far, he has been great.