Detroit Tigers: Al Kaline & the Called Shot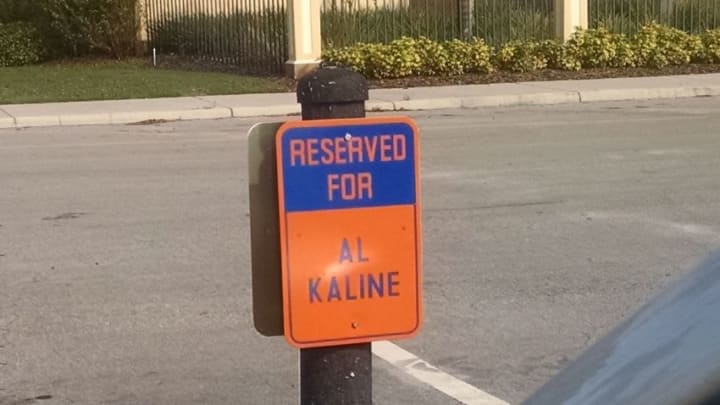 Al Kaline's reserved parking spot in Lakeland, Florida at Joker Marchant Stadium. Photo by Kristen Bentley. Dec. 26, 2015. /
ICYMI: During the Detroit Tigers spring training game against the Atlanta Braves, Mr. Tiger had his very own Babe Ruth moment.
Al Kaline will always be known in the hearts of Tigers fans as Mr. Tiger. He is the epitome of the team and today, Tigers fans got a special treat as he and Jim Price called the game on the Detroit Tigers Radio Network. And, what a treat it was.
There were several highlights of the game, but THE highlight was seventh inning when James McCann was up to bat. Price asked Kaline what pitch McCann was looking for on his 3-1 count. Kaline described the pitch and Lucas Sims threw the pitch. McCann hit it, like he heard what Kaline said. The ball traveled beyond right field, scoring four. It was a magical moment for Kaline and Price, but also for the listeners. (It was quite magical for McCann who hit the grand slam.)
Throughout the game, Kaline and Price spent time reminiscing about their time in the MLB. Baseball was so different than it is today. Kaline spoke about how scared he was to play as a rookie because the veterans were so afraid that the rookies would take their positions. He spoke about how he did not have a bat to use; so, he had to borrow a vet's bat. He had to wear the bat boy's uniform in his first game against the Philadelphia Athletics. His manager didn't even know his name and called him in to pinch hit. Kaline chose a bat that was too heavy and he popped up for a quick out. Kaline commented on how nervous he was and how glad he was to get out. He was just 18 years old and wore #25. He eventually chose to wear #6 as an homage to his idol Stan Musial.
As a lifelong Detroit Tigers fan, I have always been in awe of Al Kaline. But, I was too young to actually see him play. However, I was old enough to enjoy his voice as a TV announcer growing up. I was happily surprised to hear his voice on the radio today. My grandfather was the reason I developed a love of baseball and Kaline was the player he talked about the most. For the young fans who see Kaline's Corner in right field, there is a reason why he has his own corner in the park, his own parking spot at Joker Marchant Field, and the nickname of Mr. Tiger: he was that good.
Kaline began playing for the Tigers in 1953, the year he was signed. He was what was called a "bonus baby" –  a term that was used to describe players who were given large contracts that let them skip the minor league system. So, Kaline went directly to the majors right after high school as an 18-year-old. He made $6,000 in 1953, but received a $35,000 signing bonus. As a bonus baby, he had to stay on with the team for at least two years. Fortunately, he remained a Tiger for his entire 22-year career. 
More from Motor City Bengals
During his time at Tiger Stadium, he patrolled right field like no one else did. And, he could hit. During his 22 years, he had nine with more than 20 home runs. In 1955, he led the league with 200 hits, a .340 batting average, and 321 total bases. He was only 21 years old.
He was regularly recognized by the baseball world. He was in 15 All-Star games and though he never was named an MVP, he received enough votes to appear in the final vote in 14 seasons. He was selected to the BBWAA Hall of Fame in 1980, receiving 88.3% of the votes in his first appearance on the ballot. He won 10 Gold Glove awards. He is seventh all-time in putouts as a right fielder. When it comes to hitting, Kaline is in the 28th position for hits in his career, 25th in at-bats, and 26th in total bases. The man ruled the diamond.
Next: Detroit Tigers: Week Two Trends
Now that Kaline is in his 80s, his time with the team is valuable. He is such a mainstay in and around Detroit (and Lakeland) that he was one of three Tigers interviewed when Calvin Johnson retired from the Detroit Lions. Kaline serves as a consultant to Al Avila (along with fellow teammate Willie Horton) and he frequently is involved in special events with players young and old. Kaline has been with the Tigers – his one and only MLB team – for over 60 years, which is a respectable feat all its own. The Tigers are fortunate to have him and hopefully, they will have him for many more years to come.