Detroit Tigers: Five Key Spring Training Battles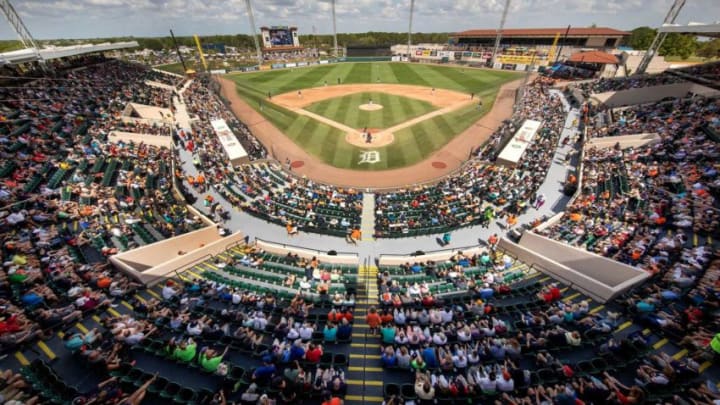 Detroit Tigers baseball fans watch their spring training game against the Atlanta Braves at Publix Field at Joker Marchant Stadium last March.031220 Ep Tigers 1 News /
Spring Training Battle: Closer
DETROIT, MI – Detroit Tigers pitchers walk to the bullpen. (Photo by Mark Cunningham/MLB Photos via Getty Images) /
Depending on one's perspective, the Detroit Tigers heading into camp with four legitimate contenders to close is either a good thing or a terrible thing. Fielding a good closer on a bad team always feels like an unnecessary luxury, like a spoiler on a mail truck, but it does make a manager's job a bit easier. Hinch recently admitted he would have a dedicated closer, but not necessarily a 9th-inning guy:
Candidates: José Cisnero, Bryan Garcia, Joe Jiménez, Gregory Soto
Long Shots: Beau Burrows, Buck Farmer, Kyle Funkhouser, Zack Hess, Alex Lange
The four main contenders here form an interesting group. Garcia was the last man standing in 2020, but he had an extremely low strikeout rate, and it remains to be seen how much weight the new coaching staff places on last season. Jiménez has the most experience, with 17 career saves, but he's also been one of the worst relief pitchers in baseball over the past two seasons.
Soto has the most electric arm, with a nasty triple-digit sinker from the left side, but his slider isn't consistent and he walks too many batters. That leaves Cisnero, who has good enough stuff to pitch in the late innings and has developed solid control, but blew his only save chance last year.
Relievers are very strange, so any one of the above players could quickly seize the role this spring. Or they could all implode, and one of the long shot candidates could grab the job. Of that group, Funkhouser and Hess have the best stuff, but anything can happen in the bullpen.
Odds to Win the Job: Cisnero 25%, Jiménez 25%, Garcia 20%, Soto 20%, Burrows 2%, Farmer 2%, Funkhouser 2%, Hess 2%, Lange 2%