Detroit Tigers Prospects Week (3/8-3-14) Calendar of Links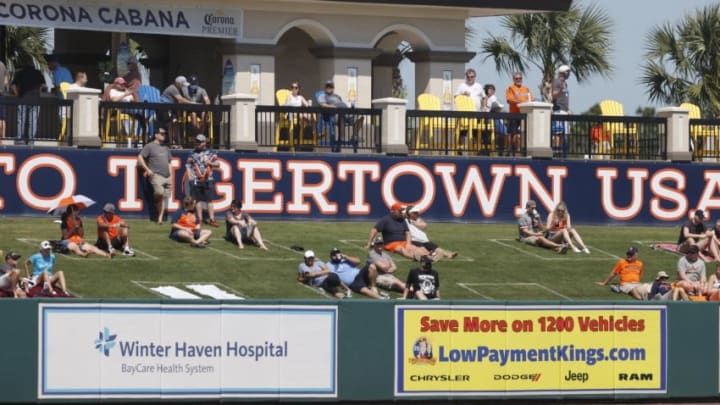 Mar 4, 2021; Lakeland, Florida, USA; Fans sit in the outfield lawn as they watch the spring training game between the Detroit Tigers and Toronto Blue Jays at Publix Field at Joker Marchant Stadium. Mandatory Credit: Kim Klement-USA TODAY Sports /
When I took over as the co-expert for Motor City Bengals last year, one of the things I was looking forward to doing was to re-establish the Tigers Minor League Report, a dedicated source for all things Detroit Tigers prospect-related.
Now we have a group of prospect writers with Chris Brown, Joe Heintskill, who both wrote for one of the best original sources for prospects coverage at TigsTown.com,  Kellen Gove, Dan Hasty, who is the voice of the West Michigan Whitecaps, Jacob Boes, who writes up scouting reports at Prospects Live and "Yooper", we were able to put our MCB Top 20 Detroit Tigers Prospects List.
We will keep you updated with our normal coverage of the Detroit Tigers as we always do but without further ado, we like to welcome our first-ever Detroit Tigers Prospects Week.
Here's how the schedule lines up with links of recent stories we have released already and new articles we will be dropping.
State of the Detroit Tigers Farm System
Detroit Tigers /
Over the weekend, I wrote about the progress the Detroit Tigers have made in making the farm system better via the draft and the trades General Manager Al Avila has made. How far along has Detroit come since he has taken over? How pivotal of a season is it for a few Detroit Tigers to move beyond prospect status?
Just Missed Beyond the Top 20Starting Pitchers
Detroit Tigers /
Joe Heintskill gives some other starting pitchers in the system some much-needed attention that fell out of our Top 20 Prospects List
What position groups do the Detroit Tigers have the most prospect talent in their minor league system?
Detroit Tigers Weekly 2021 MLB Draft Recaps
Detroit Tigers /
Want to know who the Detroit Tigers may be targeting in the 2021 MLB Draft? Chris Brown has you covered with weekly recaps of all the college baseball action and even high school players who may be rising on various draft boards.
AL CentralBest High-Leverage Prospect Arms
Detroit Tigers /
Kellen goes over some of the arms in the AL Central that could be high-leverage bullpen pieces.
Motor City BengalsTop 20 Detroit Tigers Prospects
Detroit Tigers /
If you missed our rankings, we have you covered.
MCB MailbagProspect Edition
Detroit Tigers /
Submit your questions to our mailbag. You have until Friday, March 12 to submit your questions. We will feature our readers' questions that you can submit with or without your name here. 
The Detroit Tigers Minor League Report podcast
I am pleased to announce the Tigers Minor League Report podcast, a new podcast that will be recapping all the Detroit Tigers minor league action throughout the system.  It will be hosted by several MCB co-contributors as we "reboot" an old podcast feed from the Tigers Minor League Report website.  Episode one features the voice of the West Michigan Whitecaps and fellow contributor, Dan Hasty.