Detroit Tigers: 4 Strongest Positions in the Farm System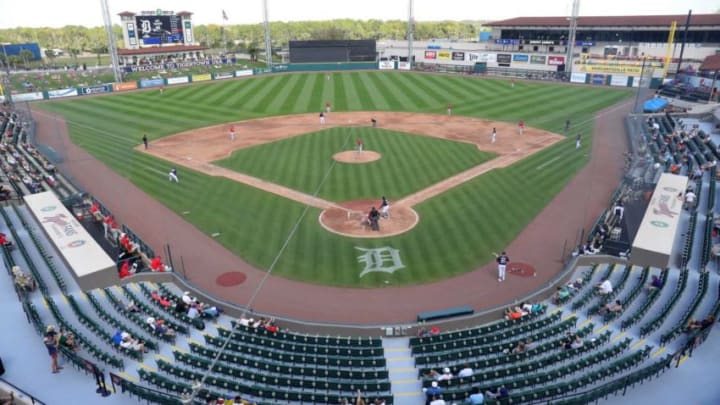 Detroit Tigers play against the Philadelphia Phillies during Grapefruit League action on Sunday, Feb. 28, 2021, at Publix Field at Joker Marchant Stadium in Lakeland, Florida.Joker Marchant Stadium overview, Joker Marchant Stadium general view /
2. Detroit Tigers Catchers
Catching depth can be hard to come by. Two teams that quickly come to mind for me are the Toronto Blue Jays and the Detroit Tigers.  While Jake Rogers (number 14 on the MCB Top 20) is about to graduate from prospect status to some sort of role for the Tigers in 2021, Dillon Dingler has impressed the Tigers quickly and earned a spot in the Top 10 on our list.
Beyond those two names, Detroit has a few other players in their system that could be serviceable at some point. Cooper Johnson showed off an arm quickly at West Michigan in 2019. While he may be a defensive first catcher,  he has also shown power potential in his bat.
Eliezer Alfonzo comes from a baseball family. His father, the same name as his, was a catcher for nine seasons, and his uncle Edgardo Alfonzo, was an infielder. Alfonzo may end up playing a different position because of his hitting potential.
And then there's Sam McMillian, who was drafted out of high school in 2017 in the fifth round. He is still just 22, and high-school catchers have notoriously long development paths. He can get on base and his glove is solid. The hope is in 2021, he can start squaring up the ball to be considered a high-tier prospect, but Tigers fans should not forget he is there.