Detroit Tigers: 4 Strongest Positions in the Farm System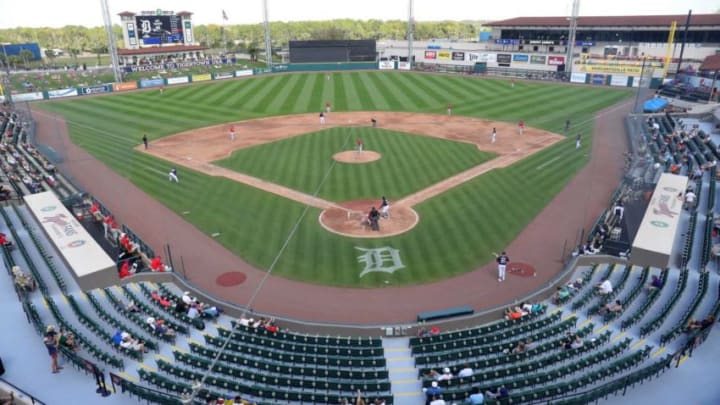 Detroit Tigers play against the Philadelphia Phillies during Grapefruit League action on Sunday, Feb. 28, 2021, at Publix Field at Joker Marchant Stadium in Lakeland, Florida.Joker Marchant Stadium overview, Joker Marchant Stadium general view /
Detroit Tigers /
3. Detroit Tigers Third Basemen
Spencer Torkelson (
on the MCB Top 20) has seen time at both 3rd and 1st, but until there is a full-time move, we can safely list him at 3rd. Last year's number one overall pick has shown his athleticism with a nice play against the Yankees last week.
Lynn Henning of the Detroit News has not listed Isaac Paredes (number 6 on our list) as a "top prospect" as he is about to graduate to a full-time player for Detroit in 2021, and I understand his logic because Paredes has impressed Manager AJ Hinch. Whether he stays at 3rd or goes to 2nd, if Paredes can show he can hit on a consistent basis, it gives Al Avila another victory as far as trades go.
Something else to consider as far the hot corner goes from a historical standpoint. It wasn't until Travis Fryman in the early '90s that Detroit was able to develop consistent value at 3rd base from the farm system. In the '80s, it was a revolving door between Tom Brookens, Howard Johnson,  and trade fill-ins like Darrell Coles.
As the Tigers went into the 2000s, we saw Brandon Inge take over, then Nicholas Castellanos before he moved out to the outfield.  Now, internally, Detroit has two 2020 draft picks in Gage Workman (number 16 on the MCB Top 20), who grades out well for his glove, and Colt Keith (number 18 on the MCB Top 20).
Andre Lipcius, who I saw play 3rd at West Michigan, made an impression on me. He already made adjustments to his swing after he was drafted out of the University of Tennessee and showed a better glove than his reports indicated. He may end up being a utility infielder, but still, you have to be encouraged.
Despite his slow start at West Michigan, 2019 2nd round draft pick Nick Quintana has power potential. With the recent draft picks, Detroit has the opportunity to continue developing third baseman on a regular basis.